Court Reporting/ Realtime Reporting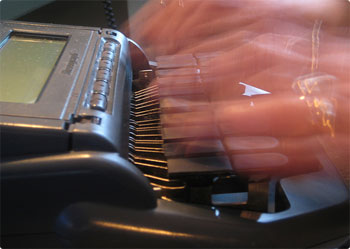 Premiere Verbatim Reporting has built our reputation on reliability, quality of service and experience. Each of our employees is a certified, skilled stenographic reporter who takes great care to provide the most accurate and meticulous transcriptions of every discovery.

PVR reporters have been trained and accredited through highly regarded court reporting programs.They all hold Official Reporter designation in B.C. through the Ministry of Attorney General. They have the unique ability to type at speeds of up to 300 words per minute and use machine shorthand, combined with advanced transcription software to produce concise verbatim transcripts.

PVR's reporters are experienced in all forms of court reporting and are practiced in complex subject matter relating to a wide variety of judicial and near legal material including:

Examinations for discovery
U.S. depositions
Video discoveries
Cross examinations on affidavits
Arbitrations
Meetings
Hearings
Government Agencies
Realtime
Realtime reporting is the instantaneous transcription of verbatim proceedings into text. A computer links the court reporter's stenography machine with specialized software, converting shorthand notes into proper English text. This counsel's laptop may also be connected, allowing access to the text in real time, increasing efficiency and saving valuable time and resources.

We offer complimentary Realtime demonstrations and employ Realtime certified court reporters should clients require this service.